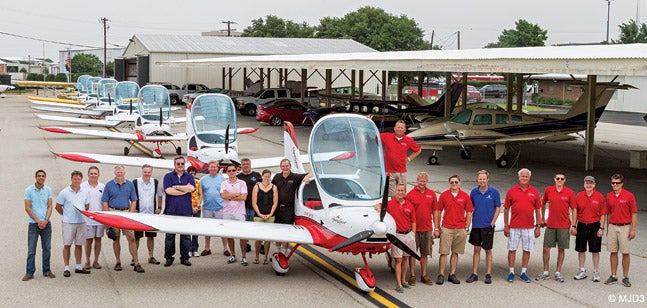 With humble roots and a commitment to excellence, US Sport Flight Academy has seen a decade of unprecedented growth. We attribute it to our fun-loving country club style and welcoming family approach!
---
Our story begins in 2004 with the advent of the FAA's rules regarding Certification of Aircraft and Airmen for the Operation of Light-Sport Aircraft. The new rules dramatically reduced the cost of learning to fly and opened the market to a flood of new Light Sport Aircraft, including the "sports coupe of the sky," Czech Sport Aircraft's SportCruiser.
When DPE, A&P mechanic, and former airline pilot Patrick Arnzen took over US Sport Aircraft in 2010, he took over a company that exclusively sold Light Sport Aircraft and trained Sport Pilots – they were even known by some as "the light sport guys." As the sole U.S. importer and distributor of the CSA SportCruiser, US Sport Aircraft grew quickly, supported by its factory-trained maintenance department and a flight school on the side.
A family man, Arnzen brings a unique approach to US Sport Flight Academy that sets it apart from competitors entrenched in a stale, outdated approach to flight training. "Walking into a flight school shouldn't feel like walking into a doctor's office," Arnzen says. "You should feel welcome and at home with the people you fly with!"
---
Arnzen wasn't satisfied with simply being "the light sport guys," however, and promptly introduced more traditional aircraft into the company, beginning with the flight school. In no time, our flight instructors were training students in Cessnas, Beechcraft, Bellancas, American Champions, and of course plenty of CSA SportCruisers! Our students loved that they could train in traditional aircraft for much of their training while still being able to save on costs by training in the much more affordable SportCruiser.
By 2016, US Sport Aircraft had sold over 600 aircraft, trained over 4000 pilots, and revolutionized flight training in the Dallas-Fort Worth metroplex. The flight school had grown to the point at which it could no longer be just another aspect of the multidimensional company. With the tripling of our flight instruction team, addition of dozens of new programs, and acquisition of a brand new flight training facility at Addison Airport, we created US Sport Flight Academy!
At US Sport Flight Academy you can get your sport, private, instrument, commercial, multi, CFI, CFII, MEI, and more! And the best part? A guaranteed interview upon completion of our CFI program. You'll build time as a flight instructor until reaching airline minimums – that's just 2 years from zero to airline pilot!
A unique feature of flight training at US Sport Flight Academy is that we also offer unconventional programs such as aerobatic training, tail wheel training, upset recovery, and more! You name it, we teach it!
We offer both self-paced and accelerated training at a fraction of the cost of competing flight schools, and you'll be doing it in brand new to late-model aircraft. Forget those rusty broken down antiques they fly at those other schools! A wide variety of aircraft and advanced glass cockpit avionics for as low as $125 an hour can't be beat anywhere else – we guarantee it!
Our team is here and ready to fly – give us a call and make your dreams become a reality!